It is very important to know how to register and log in on the Income tax e-filing website.
Why?
Otherwise, you can't file your returns online.
And it is the very first steps in your total income tax journey.
You have already earned your income, TDS has deducted already and now you want to file your return.
Maybe there is any refund or there may be any further tax liability.
Normally in this situation, you want to take advise from any CA/Tax Consultant.
He/she gives you advice and demands your ID proof and address proof, From 16, etc.
After 1 or 2 days he/she will inform you that the filing is complete.
You will very happy and take all the documents from your consultant.
But my friend, can you ever think about the password of the income tax portal?
This password belongs to you.
The main sad thing is that if you want to change your consultant for any reason then your ex-consultant will not provide you the password. ( Not everyone but most of them).
You have to change it.
So, it is better that you have a total idea about the income tax portal.
You have an idea about how to register, how to log in, etc.
In this article, I will show you how to register and log in on income tax e-filing website.
Let us start.
How to register in income tax portal or income tax e-filing website?
I will so you the step by step guide of registration.
It is really easy.
Actually, you have no idea about it and that's why you take it as a very difficult job.
So, let us start.
# Basic Work
Step 1: Go to the income tax portal incometaxindiaefiling.gov.in.
Step 2: In the above, you can see at the right corner "New to e-filing? Register yourself." Click that button (See the image below. Highlighted with the red color).
Step 3: Here you have to select the user type. User type means you have to declare whether you are an individual or HUF or Other mentioned categories. See the below images:
The different types of users are shown in the below image.
Step 4: You are an individual. So, select the individual option and click "Continue". If you are other than individual then please select the appropriate option.
#Main Registration
Step 1: Now the main registration area will open.
The registration process is divided into 4 parts and they are
Enter basic details.
Registration Form.
Registration Verification, and
Registration Successful.
So, at first you have to provide your basic details, like
PAN,
Surname,
Middle Name,
First Name,
Date of Birth, and
Residential Status. ( See the below image).
After providing all information, click the continue button. The next section will open.
Step 2: You can see your personal details here. Remember, your PAN is your user id.
Now you have to select your password. See the below picture
The instruction of password selection is as follows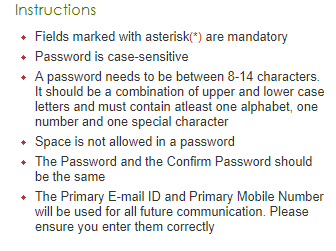 Step 3: After the selection of the password, you have to choose two security questions and answers. If anybody tries to change your password, he has to face these security questions.
Again, if you try to reset your password, this can be used.

Further, the list of secret questions are given below
Step 4: Provide your contact details.
Remember, your primary mobile number and email id are very important. These are the main source of communication.
Step 5: Provide your address. After that click the "continue" button.
#Verification
It is the most important area of the entire procedure.
After providing all your details, when you click the continue button, a message box will open. See the below image.
Two separate OTP will be sent to your registered email id and mobile number. Click the confirm button.
You have to provide those OTP at the required place.
Click on the validate button for successful registration.
If you have not received the OTP within 2 minutes, you have to click on the "Resend OTP" button.
# Registration Successful.
After validation, you will receive a message about your successful registration.
Now you have a proper idea about the registration procedure.
Remember, it is not the end. It is the beginning.
After registration, you are able to do any online work related to income tax.
Not only you can file your return, but also you can pay your tax liability.
I will provide you all the procedure one by one.
After registration, you have to log in on the income tax e-filing portal.
Very easy steps. Just follow it.
How to log in
If you want to do any online income tax related work, you have to log in.
So, just follow the below steps to log in on income tax e-filing website.
You have already set your password.
The user id is your PAN.
Step 1: Go to incometaxindiaefiling.gov.in
Step 2: Click on the "Registered Users? Log in Here."
Step 3: You should provide your user name and password in the required area. You have to write the correct captcha code. Then click on the login button.
Step 4: A message box will open. It will look like this
You can update your contact/address details or you can skip this section. Just click on the required button as per your choice.
Step 5: Now you are in your dashboard. You can move here as per your requirements.
Final Word
Now you know how to register and log in on the Income-tax e-filing website.
I hope you can understand every step required for registration procedure and login procedure.
If you face any kind of problem then just inform me.
And last but not least, sharing is caring. If you think this article is really helpful, please share it. So that others can take advantage of this article.
See you soon.
Ta Da.
For your knowledge read the following articles